KNMFi User Meeting 2023
The 2023 KNMFi User Meeting will take place 28-29th November at Buhlsche Mühle in Ettlingen, Germany
Registration
Registration for the user meeting is closed. For late registrations, please contact the KNMFi User Office.
All participants were notified via email on November 6, 2023. If you are unable to attend, please inform the KNMFi User Office immediately.
Online registration is mandatory: Registration Link
Deadline: 5th November 2023
sprungmarken_marker_1159
Location
Buhlsche Mühle
Pforzheimer Str. 68, 76275 Ettlingen, Germany
Phone: +49 (0) 7243 101-8444
E-Mail: info∂buhlsche-muehle.de
www.buhlsche-muehle.de
DIRECTIONS (Download PDF)
By Car
Some parking spaces are available directly at the Buhlsche Mühle. Hotel guests can park at the Hotel Watthalden. More parking spaces are available in the parking garage at Albgaubad (max. €6 per day).
Public Transport
We recommend traveling by public transport.
Frequent departures S1 or S11
from Karlsruhe Main Station (Hauptbahnhof Vorplatz)
to Ettlingen Albgaubad:
S1 > Ettlingen Albgaubad / Bad Herrenalb
S11 > Ittersbach
Travel time 20 minutes to "Albgaubad".
Walking distance from Albgaubad to Buhlsche Mühle 500 m / 6 minutes.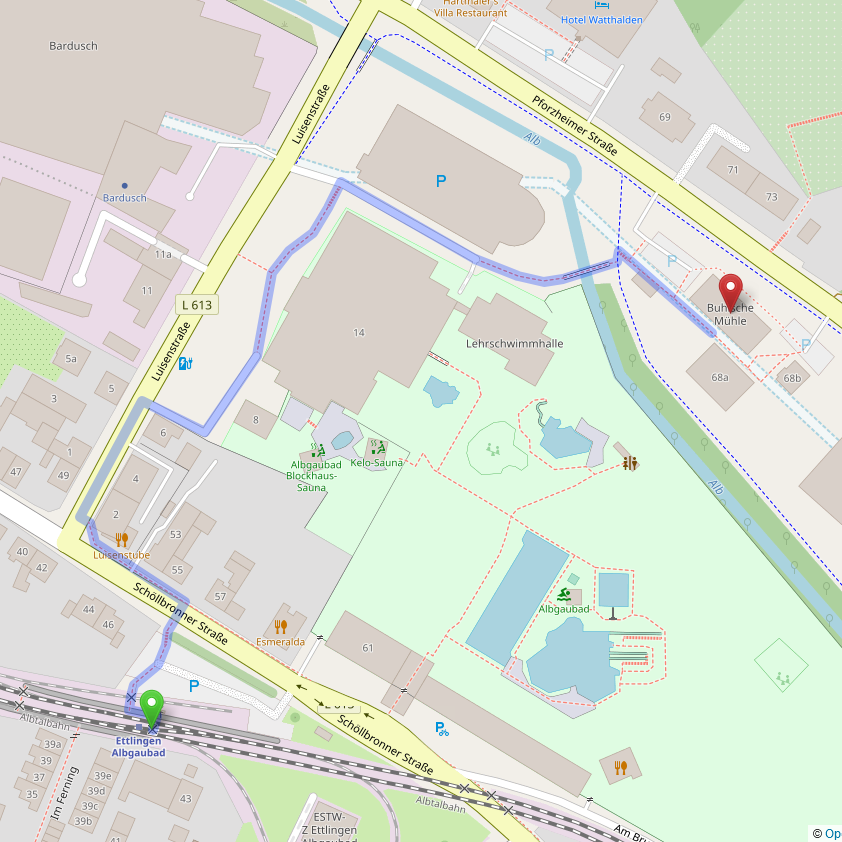 Accomodation
A limited contingent of rooms has been reserved at the adjacent Hotel Watthalden from 27.-29. November 2023, Price 106,90 €/night. Please arrange your booking direct with the Hotel Watthalden, and use the Booking code: BM271123/02.
Deadline: 31st August 2023
Contact:
Hotel Watthalden
Pforzheimer Str. 67a, 76275 Ettlingen, Germany
Phone: +49 (0)7243 714 - 0
E-Mail: hotel∂watthalden.de
www.hotel-watthalden.de
Agenda
Note for speakers: All time slots include at least 5 minutes of discussion time, please plan your presentation accordingly.
Day 1, Tuesday 28 November
09.30 Welcome tea / coffee
10:00 Workshop
Data management in KNMFi
- Introduction to data management and ELNs in KNMFi (Jürgen Brandner, KIT/IMT/KNMFi)
- ELN implementation example: SCXD/Chemotion (Nicole Jung / Olaf Fuhr, KIT) – tribute to Andreas Eichhöfer †
- Best practice use case Kadi4Mat (Michael Selzer / Vinga Szabo, KIT)
Getting to grips with meta data
- Handling and storing meta data (Rossella Aversa, KIT/SCC)
- Assuring provenance tracking of data (Michael Hirtz, KIT/INT)
- NFDI4Chem: Shaping digital and cultural change in chemistry (John D. Jolliffe, Johannes-Gutenberg-Universität Mainz, Germany)
12:30 Lunch
Presentations / User Highlights
13:30 Strain analysis in complex nitrides (Niklas Wolff, Kiel University, Germany)
14:00 Magnetic Resonance-based visualization of MR-invisible solid plastics: new polymer and resin materials using add-ons (Andreas Berg, Medical University of Vienna, Austria)
14:30 Realization of optimized Parylene-based microstructures on ultra-thin, flexible substrates for self-sticking medical wearables (Florian Glauche, Fraunhofer-Institut für Elektronische Nanosysteme ENAS, Germany)
15:00 Break
15:30 KNMFi status and outlook (Jürgen Brandner, KIT/IMT/KNMFi)
New possibilities in KNMFi
15:45 3D-High precision printing by using 3D Direct Laser Writing:
[1] Capabilities of two-photon absorption lithography (Stefan Hengsbach, KIT/IMT).
[2] Thermally driven micropumps: design and fabrication constraints due to rarefied gas flow operating conditions (Marcos Rojas-Cardenas, INSA de Toulouse, France). Co-authors: Lucien Baldas (INSA-ICA), Stéphane Colin (INSA-ICA), Franz Schweizer (ICA-KIT), Juergen Brandner (KIT), Stefan Hengsbach (KIT), Klaus Bade (KIT), Samuel Bergdolt (KIT)
16:15 Advanced features in microscale by high performance materials: Ceramics 3D printing (Jürgen Brandner, KIT/IMT/KNMFi)
16:35 Plasma-FIB – Large-scale structuring and imaging (Sabine Schlabach, KIT/IAM)
16:55 Short Introduction in Thermal Scanning Probe Lithography (tSPL) (Stefan Walheim, KIT/INT) and Nanostructuring of SURMOFs with tSPL (Ana Fingolo, KIT/IFG)
17:15 End of day 1 / Get together dinner
Day 2: Wednesday 29 November
09.00 Welcome tea / coffee
Presentations / User Highlights
09:30 Operando and in situ investigations of dendrite growth in solid state Na ion batteries (Marcus Rohnke, Gießen University, Germany)
10:00 The structure of a superconducting circuit material revealed by energy-filtered TEM tomography (Thomas Reisinger, KIT/IQMT)
10:30 Transparent Thermoelectric Thin Films (Carlos Tavares, University of Minho, Portugal)
11:00 Break
New in KNMFi: correlative and automated processes
11:30 Lab Automation Beyond the Bench: Pioneering Material Discovery with Software-Defined Research Workflows (Helge Sören Stein, TU Munich)
12:00 ChemASAP: Automated processes for chemical syntheses and analyses (Nicole Jung, KIT)
12:20 NMR measurement in parallel: increasing sample throughput (Neil MacKinnon, KIT/IMT)
12:40 Correlative characterisation (Richard Thelen, KIT/IMT / Alexey Boubnov, KIT/INT)
13:00 Close of meeting
Before or after the meeting, lab visits are possible after individual consultation with the KNMFi technology experts.
User Highlights / Application for Presentation
Presentation slots have been reserved for Highlights from our users. If there are still free slots on the agenda and you would like to apply a presentation, please send details by email to knmf-useroffice∂kit.edu. Please make the subject of the email KNMFi User Meeting 2023: User Highlight.
Deadline: (no more slots available)